Book: 2028
"2028 – Hacker-AI and Cyberwar 2.0+"
Securing our Future: Proactive Resilience through Separated Security Measures
You can access here the entire book – for free.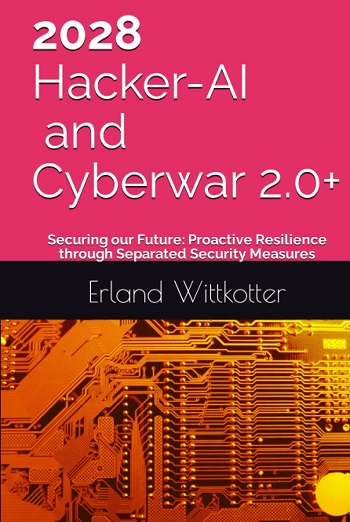 AI-assisted Hacking (or Hacker-AI) is discussed for its use in Cyberwar and Cybercrime. It would be pure madness if we would let that happen. Cybersecurity paradigms must be modified and updated so that we have a chance to deal with threats from the use of AI in generating malware.
The solution is discussed in the following 3 chapters:
If you disagree, let me know: 2028 [at] nogostar.com. If you agree, share this page.
Also, if you like this book, please consider buying a paperback/hardcopy or support this effort via Patreon
I have segmented the book into 1 file per chapter.
About Book/Author
Current cybersecurity and its paradigms are insufficient when AI is used by cyber-attacker. AI-assisted hacking is much faster, more flexible, and less detectable than tools from the most knowledgeable human hacker using today's best attack tools.
We must stop malware-based cyberwar and cybercrime with proactive, preventative, redundant tools that give defenders sustainable advantages. This book is a step in that direction.
The Author, Erland Wittkotter, Ph.D., took a fresh from outside. He started this privately funded AI/ASI safety research in late 2019. As a mathematician with a Ph.D. in theoretical physics, most of his career, he was an entrepreneur working in tech. His interests include data architecture, AI, cryptography, cybersecurity, and understanding low-level computer features (CPU, OS Kernel, Databus/USB, etc.). Besides system programming in C/C++, he did Reverse Code Engineering (RCE) as a hobby hacker for about 30 years. As a software developer, he has a passion for Python, giving him hands-on experience with machine learning/AI concepts.
His approach: simple, reliable anomaly detection, "low-level" – unnoticeable for users and most developers – non-bypassable by attackers. We must apply the same security measures in AI/AGI/ASI safety. We should not forget: AI/AGI/ASI can never be trusted when computer vulnerabilities can be exploited covertly. We should not waste time. Hopefully, it's not too late.
Preface, Introduction: https://www.nogostar.com/Book/Hacker_AI_Cyberwar_2.0_Chapter_00_Intro.pdf
Main Takeaways

Hacker-AI is AI-assisted hacking (or AI-power or AI-driven hacking). Reason for this term: emphasizing AI's role in the hacking. It can assist humans, but AI could also have a more active or independent role as an automated tool or resource used by the human hacker.

Computer vulnerabilities result from software complexity; current OS security is insufficient to protect our devices.

Software can be modified covertly; tools cannot be trusted. Attackers vanish unidentified. Secrets are unreliable in defense. Defenders can be turned into traitors.

Hacker-AI generates undetectable and irremovable malware. It is uncertain who will develop and use it.

Hacker-AI-generated malware can steal data (keys), surveil at a mass scale, covertly communicate among user devices, and design/execute misdirection/deception campaigns.

Cyberwar 2.0 uses Hacker-AI to overthrow governments in targeted countries (less costly than conventional warfare). It could be used in China annexing Taiwan or the US assisting the Russian opposition in transitioning to a post-Putin country.

Although the experience of being in a Cyberwar 2.0 cannot be compared to the horrors of conventional wars, long-term consequences for people's freedom and life are severe.

Cybercrime 2.0 includes disrupting eCommerce, money laundering, manipulating law enforcement, and even cyber jailbreaks where malware taints or creates confusion with evidence.

Proposed technical solutions for Hacker-AI include developer accountability, hashcodes/ whitelisting, and separating security from regular tasks. New cybersecurity paradigms are suggested; we need quick low-level security separation (L2S2) and an (open-source) expert development community.
1. Why do we have Vulnerabilities in our Computers? https://www.nogostar.com/Book/Hacker_AI_Cyberwar_2.0_Chapter_01.pdf
Acknowledging Complexity

Complexity is the enemy of security

Who is Responsible for Vulnerabilities?

Attackers, developers, system designers, or users?

Layers and Components

When it helps developers, then it helps also attackers/hackers

Could OS Security be Strong Enough to Protect Devices?

Can we trust Apple's (Lockdown) security?
2. Digging Deeper into Computer Vulnerabilities https://www.nogostar.com/Book/Hacker_AI_Cyberwar_2.0_Chapter_02.pdf
Overview – reasons for vulnerabilities:

(1) Software is invisible

(2) Software is covertly modifiable

(3) Every tool/component could be compromised" or "Any app can be made dangerous

(4) Attacker chooses methods and timing". Attackers have the first-mover advantage

(5) Attackers know more (about vulnerabilities)

(6) Attackers can adapt to (known) methods of detection (quickly)

(7) Attackers can get away unidentified

(8) Secrets are unreliable in defense

(9) Defenders can be compromised

(10) Software output could be faked (late)

(11) Complexity is an enemy of security

(12) Crypto-Keys/Units are unprotected

(Current) Cybersecurity Paradigms are:

(1) Do not trust CPU/OS – but still use it (no choice)(2) Blacklists of threats are sufficient(3) Software developers are not trusted partners(4) Single-Unit-Security

Institutional Resistance Against Better Security
3. Hacker-AI, Cyber Ghosts, and Cyber Devils https://www.nogostar.com/Book/Hacker_AI_Cyberwar_2.0_Chapter_03.pdf
Hackers are Challenged – Hacking is difficult and time-consuming

But: Automation and AI reduce the barrier to entry

Who will Develop and Use Hacker-AI
Software/Application Environments (as easy targets)
Undetectable Cyber Ghosts and Irremovable Cyber Devils
Hacker-AI Types (Type-I/-II)
Blindspots – even Hacker-AI has limits
4. Hacker-AI – Basic Features and Consequences https://www.nogostar.com/Book/Hacker_AI_Cyberwar_2.0_Chapter_04.pdf
Overview of Feature Categories for Attacker Tools:

Preparation Tools – Information Gathering

Attack Tools – starting Hostilities

Fortification/Protection of Position

Miscellaneous: Misdirection, Decision-/Planning Layer

Preparation – Information Gathering via

1. Tech Library (getting details on all technologies)

2. Cyber Reconnaissance (Info on all devices/targets)

3. Tech-Simulator (extracting and testing exploits – before using it)

Attack Tools for Starting Hostilities

4. Cyber Beachhead Planner (tools/exploits to get on devices – best: covert/click-free)

5. Rights- or Permission-Elevation (exploits to get sys-admin rights – then do anything)

6. Cyber Cradle Builder (effective hiding malware unpredictable)

7. Cyber Whisperer (reliable backdoor usage and stealth piggybacking/communication)

Exploitation

8. Cyber Masterthief (stealing data: user credentials, crypto-keys)

9. Cyber Freeloader (utilizing other device apps, resources, and features, i.e., living off the land)

10. Cyber Covert/Shadow Recorder (surveillanceware that stores from multiple devices pre-processed (aggregated) relevant intelligence about users – reducing load on attacker's servers)
5. Hacker-AI – Advanced Features and Considerations https://www.nogostar.com/Book/Hacker_AI_Cyberwar_2.0_Chapter_05.pdf
Fortification/Protection of Position (i.e., waiting for being used later)

11. Cyber Ghost (undetectable software – avoiding any trace to show its presence)

12. Cyber Devil (irremovable malware fights late-comers for exclusive use of devices – then: resistance is futile)

13. Covert/Private Backdoor Facilitator (restricting access to a backdoor to their original owners/ creators using asymmetric encryption)

Misdirection/ Decision Layer

14. Cyber Patsy Designer (tool to create "evidence" or diversions to have humans stop investigating suspicious problems arising from Hacker-AI or Cyberwar 2.0; only amateurs are caught)

15. Attack Synchronization/Management (managing command and control of an attack – comprehensive/remote Cyberwar planning/operation)

Final Thoughts on Hacker-AI feature details

State-actors/leaders need to consider: who and how to control the AI operators?
6 War, Cyberwar and Hacker-AI https://www.nogostar.com/Book/Hacker_AI_Cyberwar_2.0_Chapter_06.pdf
War is Politics with other means – the goals of war …
What is Cyberwar 1.0

Cyberwar 1.0 is damage-generating malware and digital propaganda

What is Cyberwar 2.0 .

Cyberwar 2.0 decapitates a country's government or civil society – regime change

2.0 uses the following capabilities:

(2) Selective access denial (denying digital services to specific people)

(3) Directly intimidating people (psyops)

(4) Realtime Deep-Fakes, redefining truth, news-generation/rumors

(5) Reduction of costly consequences of a typical war.

Hacker-AI and cyberwar requirements

(i) hiding activities from the main OS

(ii) hide/change its attacking code/configuration against advanced detection/forensics, and

(iii) receive/request covert instructions from the outside on what to do

(iv) (potentially): connect with neighbors in occupied networks to share data, or explore more unoccupied devices

Cyberwar is a consequence of Hacker-AI

What is detectable in Cyberwar 2.0?

Simulation of Cyberwar 2.0 activities
7. Cyberwar 2.0 – A New Frontier in Warfare https://www.nogostar.com/Book/Hacker_AI_Cyberwar_2.0_Chapter_07.pdf
Cyberwar 2.0 – Phases

CWP-I (Pre-War or Preparation)

CWP-II (Actual War)

No textbook case can help us to define when a (real) cyberwar starts or ends

We define: Cyberwar 2.0 begins when the assailing country infringes via coordinated cyberattacks on the sovereign rights within the targeted country's territory

Cyberwar 2.0 ends with establishing a new puppet government controlled by the assailant

CWP-III (Post-War or Aftermath)

Comparing Cost of War: Conventional vs. Cyberwar 2.0

The first mover in a Cyberwar 2.0 most likely wins

Where could Cyberwar 2.0 Happen?

China is Using It Against Taiwan

Rogue Actors Providing "Regime-Change as a Service"
8. How is it to be in a Cyberwar 2.0 https://www.nogostar.com/Book/Hacker_AI_Cyberwar_2.0_Chapter_08.pdf
Public View
Intimidated Clerks and Officials.
Security Officers as Unwilling Tools
Governments Receiving Intelligence and Preparing
Assailants Preparing and Executing an Attack
9. Cybercrime 2.0 – Scenarios https://www.nogostar.com/Book/Hacker_AI_Cyberwar_2.0_Chapter_09.pdf
Where could we Expect Cybercrime 2.0
(1) Cyber Masterthiefs and Disruptors of eCommerce
(2) Money Laundry 2.0
(3) Manipulating Law Enforcement – (Cyber-Jailbreak?)
(4) On-/Offline Identity Management
(5) Cyberwar 2.0 as a Service
10. Cyberwar 3.0 – Start of a Solution https://www.nogostar.com/Book/Hacker_AI_Cyberwar_2.0_Chapter_10.pdf
What is Cyberwar 3.0

Cyberwar 3.0 is a war against weapons – using non-lethal, autonomous microdrones

It's a future war scenario in which humans do not belong on the battlefield

Without non-lethal weapons, every use of a drone is likely a kill

Cyberwar 3.0 targets
Cyberwar 3.0 drones – features
Other Cyberwar 3.0 attack scenarios

Stop civil wars or North Korea (DPRK)

The Aftermath of Cyberwar 3.0
Defense against Cyberwar 3.0
What's the catch?

Prevent unauthorized, remote use of weapons

Make all weapons hacker-resistant – let's hope the DoD read this memo
11. Countermeasures – Technical Solutions For Hacker-AI https://www.nogostar.com/Book/Hacker_AI_Cyberwar_2.0_Chapter_11.pdf
Solution Components

(A) Making Developers Accountable (like medical doctors, lawyers, etc.)

(B) White-/Gray-/Blacklisted Hashcodes

(C) Separate Security-related from Regular Computations

We create another layer for security-related features, i.e., independent, separately controlled – no commingling between security and regular software

Security layer can detect suspicious anomalies

(D) No Crypto-Key in cleartext – every key that "could" appear in CPU/RAM is compromised

(E) Interguarding Multi-Unit Security

(F) Automated Security – excluding users from making (covert) exceptions
12. Countermeasures – Understanding why they work https://www.nogostar.com/Book/Hacker_AI_Cyberwar_2.0_Chapter_12.pdf
Proposed Solutions Applied to Problems

Software-related issues/solutions

(1) Software is invisible but becomes (reliably) identifiable

(2) Software is (not) covertly modifiable

(3) Every tool/component could (still) be compromised, but we can stop it and know who did it

Attacker-related issues/solutions

(4) Attacker chooses methods and timing – but has no benefit from that

(5) Attackers know more (about vulnerabilities) – but they won't dare

(6) Attackers can adapt to (known) methods of detection – but can't bypass it

(7) Attacker can (not) get away unidentified

Defender-related issues/solutions

(8) Some secrets are unreliable in defense – others can be made reliable

(9) Defenders can (not) be compromised

(10) Software output could still be faked (late), but we generate irrefutable evidence

(11) Complexity is an enemy of security – we use/deploy simplified, dedicated systems for security

Crypto-related issues/solutions

(12) Crypto-Keys/Units are protected – crypto-misuse is detectable

New Cybersecurity Paradigms

(2) Regular local code validation

(3) Software developers must be made trustworthy

(4) Preventing key-cleartext disclosures

(5) Establishing Multi-Unit-Security

(6) Security execution/detection must be automated (no exceptions allowed)
13. Development of Hacker-AI Countermeasures https://www.nogostar.com/Book/Hacker_AI_Cyberwar_2.0_Chapter_13.pdf
Low-Level Security Separation (L2S2)
Product Stages:

Phase 1: basic Low-Level Security Separation (L2S2) – a redundant software solution that separates all security-relevant activities (with duplicated security features) from regular activities via quickly installable software security solutions

Phase 2: hardware that supports basic L2S2 solutions – made available as a retrofit and as an additional security component for most devices, including many legacy devices

Phase 3: technology that provides L2S2 support and security by default for new devices

Some Feature Details:

(1) Creating a local data inventory (software that needs protection)

(2) Protected loading of app/scripts/hashcodes

(3) Support for safe updates/installation of 3rd party software

(4) Safe updates for existing L2S2 implementations

(5) Independent L2S2 integrity checks

Open-Source Expert Development Community could also educate developers
Threat-Levels (TL)

TL-0: No advanced threat from Hacker-AI

TL-1: No evidence for Hacker-AI, but it is considered feasible

TL-2: Internal (i.e., not public) declaration that Hacker-AI malware is likely out there

TL-2-X or Emergency Level

TL-3: General agreement that Hacker-AI was used in a cyberwar

TL-4: Defeat – No chance of successful development of countermeasures

Protection of Development

(A) Preparation for late sabotage detection

(B) Instant repair of damages

(C) Hacker-AI impact reduction via "Digital-Clean-Rooms."

Protection of Manufacturing, Distribution, and Deployment
14. Too Late – Civil Defense in Cyberwar 2.0 https://www.nogostar.com/Book/Hacker_AI_Cyberwar_2.0_Chapter_14.pdf
Situation/Scenario

A nation like PRC prepares and then wages a Cyberwar 2.0 on Taiwan.

PRC has invested in espionage, propaganda-based, damage-creating cyberwar weapons, and offensive malware-generating Hacker-AI and Cyberwar 2.0 capabilities.

Taiwan (ROC) has a high density of smartphones/IT devices. Annexation of Taiwan by PRC is example of an offensive Cyberwar 2.0 (i.e., not damage-creating weapons)

Preparation Goals/Measures for Cyberwar 2.0 Target

(a) Facilitating Information/Intelligence Gathering

Governments need reliable info on threats from intimidated people asap

(b) Preservation of Structures and organizational missions

Preventing government's decapitation by (reduced) command and control

Preservation of existing bureaucratic/security structures and hierarchies

Increased organizational resilience against external influence or intimidation

(c) Protection against painful economic disruptions/damages

Reduction of economic disruption for defenders

Prepared methods to slow down detrimental, accelerating beneficial decisions

(d) Protected (unaltered) access to or communication with citizens

Dependable announcement that a comprehensive cyberwar has started (CUCA: Country is Under Cyber-Attack)

Establishing (reliable) methods of authorized information flow to all citizens

(e) Maintaining capability for reliable actions during cyberwar (CWP-II) and its aftermath (CWP-III)

Preparing a command/control backup (i.e., underground) for retaking governmental control – which is likely impossible

(f) Protection of people

Preventing arrests of innocent people in bureaucracy, security, or leadership – triggered by adversary.

Protection of people who have given information despite threats

.

Generally suggested methods/rules or behavior

Preparations for Not-Directly Targeted Countries

Objectives for countries not specifically targeted by Cyberwar 2.0 after confirmation:

(1) Increasing all security and defense measures to prevent that country becomes another victim of Cyberwar 2.0.

(2) Creating and protecting a safe environment to develop, manufacture, distribute, and deploy countermeasures
Final Thought https://www.nogostar.com/Book/Hacker_AI_Cyberwar_2.0_Chapter_15_FT.pdf
Software-related updates should be urgently developed to improve cybersecurity to create an incorruptible security layer below the operating system.
We need proactive security measures instead of reactive ones.
All security technologies must be open-source and constantly audited and scrutinized. A dedicated open-source expert/developer community should focus on developing countermeasures against malicious software.
Cybersecurity professionals should advise on security issues and refrain from creating exceptions.
Software developers must be accountable for ethical rules; excuses are not enough to avoid responsibility.
It's not too late to implement better security measures, and individuals with resources should act quickly to make a difference.